Barneys Dash was an event conceived through a joint idea, very much inspired by Mark Jeffries, me (Rod Adlington) and John Alton Jones, chairman of the Butchers Livery Company Charity committee. Both Mark and I have lost family members to this awful disease. I lost my 3-year-old son Barney to Meningitis and Mark lost his brother. The name in honour of Barney has evolved from the Barneys Bash fundraising events that have been held before in memory of Barney Adlington.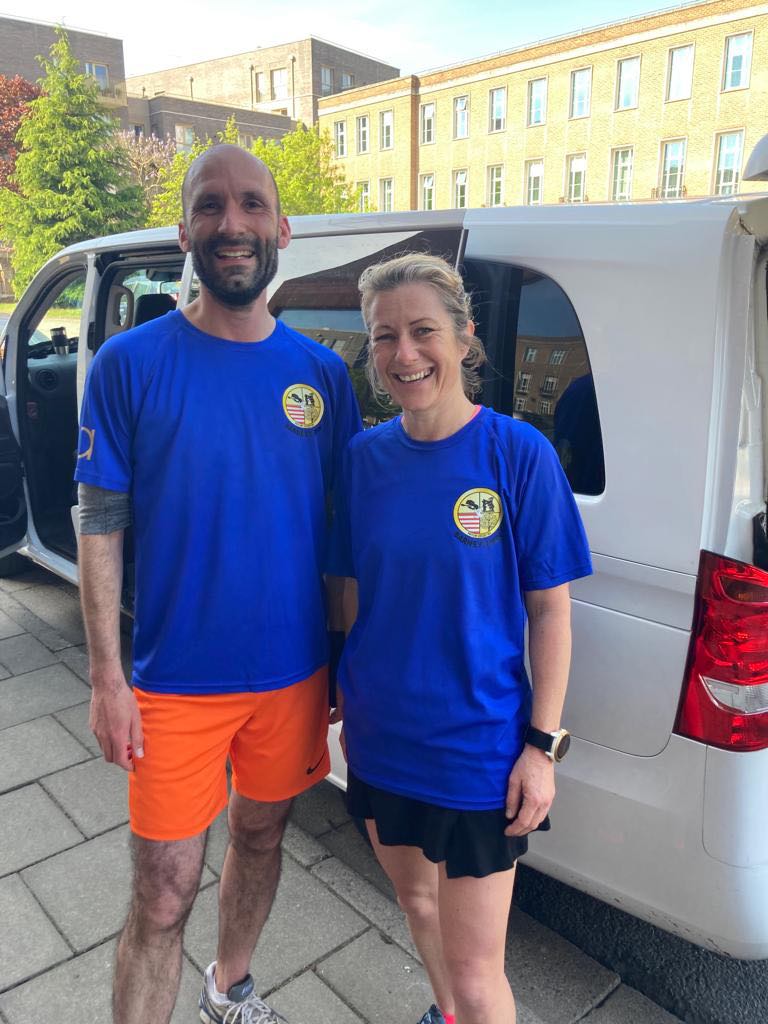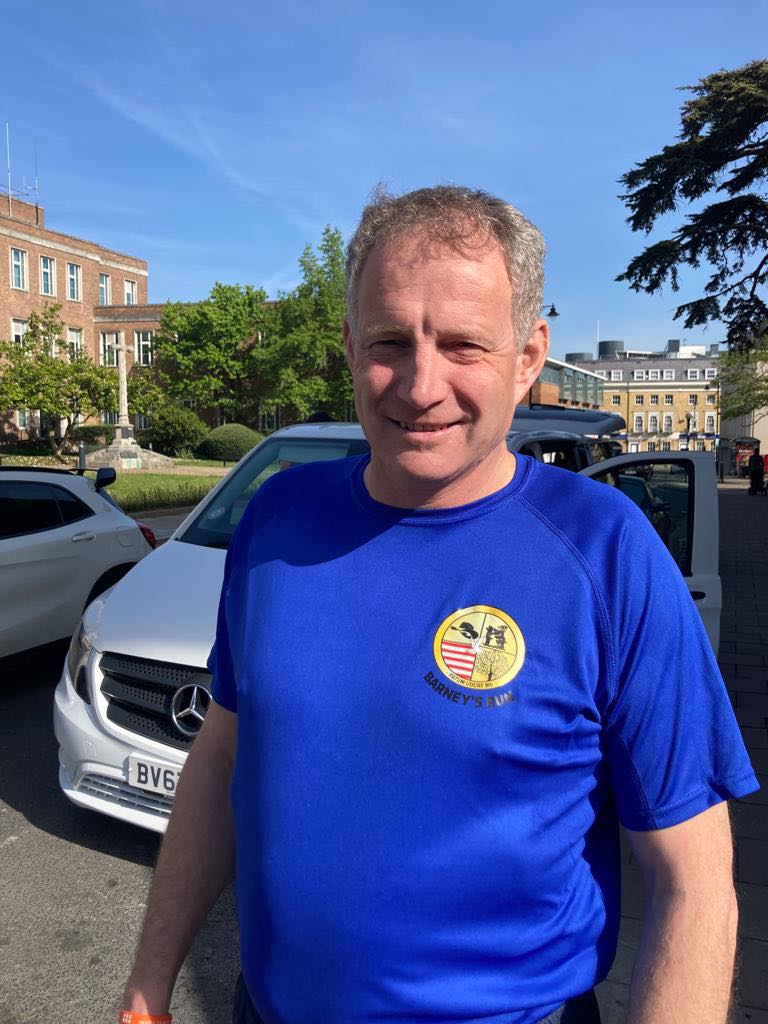 The Butchers livery company are very generous in their support of the charity, Meningitis Now, and support as one of two main charities from their own fundraising actions.
We hatched the concept of a virtual two-week challenge, open to anybody, to run, swim, cycle, row, walk, ride, all in a bid to accumulate as many total miles travelled as possible, culminating in an actual relay from Wallingford in Oxford to Butchers Hall in the heart of London. 7 people running in pairs, 60 miles in 9 hours, as we race to a reception with a very definite end time of 3.30pm, no later!
The virtual two-week race went well with almost 500 miles posted as time ticked towards the big finale.
The day of the actual event then arrived, we boarded the minibus dressed in our Meningitis Now uniform, with lots of snacks and supplies on board. The detailed route planning had been causing us headaches, but we went with a gut feeling that it would all work out. We left home at 3.30am collecting first Immy, then Elliot finally Duncan as we headed to the start point at Wallingford, just outside Oxford. At the start point we met out fellow runners, Tom Nutt, CEO of Meningitis Now, Mark Jeffries, commercial manager, and Gerald Shortland, Liveryman and accomplished runner.
Arriving at Wallingford, the full enormity of our challenge sunk in, 60 miles, and we must arrive by 3.30pm, not a second later at Butchers Hall. Failure not an option. The first stint was run by Duncan and Elliot, 13 miles across country to the centre of Henley on Thames. Leaving at 5.15 am They were flying, 1 hour 40, hot tea on arrival, and hot breakfast oats. They casually mentioned that there had been over 1000 feet of elevation in this stint, that is a kilometre up from start to finish, crazy! Both very accomplished marathon runners, looking still very fresh after their morning 'jog'. Next up was Immy and Tom. Both also accomplished marathon runners. Off they went, on their way to Maidenhead, and it wasn't even 7am yet! Tom looking very smart in his orange shorts, really looking the part. The bus arrived in Maidenhead, nowhere to park but found a spot outside of a library. We had very quickly settled into the transient life with the minibus adorned with drying running kit and a drinks station set up at the back. Not really of sure what the locals made of it all.
Iver was the next stop and our location for the changeover, an abandoned pub car park, giving us room to really spread out as we waited for the intrepid duo to arrive. The sun was out now, and it was getting warm, this was going to be tougher than we thought. Time ticked on, the heat was taking its toll, both runners arrived in quite a state, Mark had really pushed himself. Whether nutrition or hydration but had just done 13 miles in the heat and obviously in great pain for the latter part, a superhuman effort, this was now getting tough, but he embodied the fighting spirit of the group as Immy and Elliot set off. Both, already with many miles in their legs, this was going to be interesting. Tough cookies these two, they flew across country, arriving in Southall, even before the minibus, posting a photo from KFC! Really?? Next up Tom and myself, for a short 5 miles trot into Ealing. Starting through the houses, eventually finding some canal towpath running and finally ending back in the houses. Really warm now, 25 degrees, the heat coming back off the road, Tom running effortlessly even though he had already covered 13 miles, I was struggling and I need to get away from the weight training and the beer and do a lot more cardio! Arriving at Ealing Broadway Tube station and still on track timewise. Gerald was looking nervous as he took off with Duncan to cover the last 12 miles across London. This would take Duncan up to almost 30 miles for the day, Immy 24, Elliot 28, Tom, 21.
We broke the final leg down into 3 stages as clearly these guys had done the milage already. Gerald belying his slightly senior years, absolutely flying, and I mean flying…they reached the first checkpoint just off Holland Park. Duncan arrived collapsed on the pavement, admittedly with 30 miles on the clock and a string of expletives about how he is not running ever again with older men. To boot they had an interesting altercation with a local who was being rather abusive and aggressive as they simply asked for directions. No bother, there was no way this hoodlum would catch this intrepid pair as they scooted off over the horizon.
Elliot picked up the challenge in running with Gerald as they set about the final miles into Smithfield. Traffic was very heavy now and it was becoming hard to keep up with the runners. A final stop at Fetter Street and the whole gang, apart from the second driver Duncan piled out and ran the last mile and a half into Smithfield, meeting Gerald and Elliot just at the final point. We all arrived at Smithfield, for some reason by the bin area, but no one cared, it had been a great team effort and a great achievement!
We were 20 minutes early. Decided we couldn't stand still, so we circumnavigated Smithfield Market twice, before finally running into Butcher's Hall and to a very cheery welcome from our Meningitis Supporters and fellow Liverymen.
A great effort by the team and thank you for all your donations so far. Click here to donate https://www.justgiving.com/campaign/wcb100milechallenge