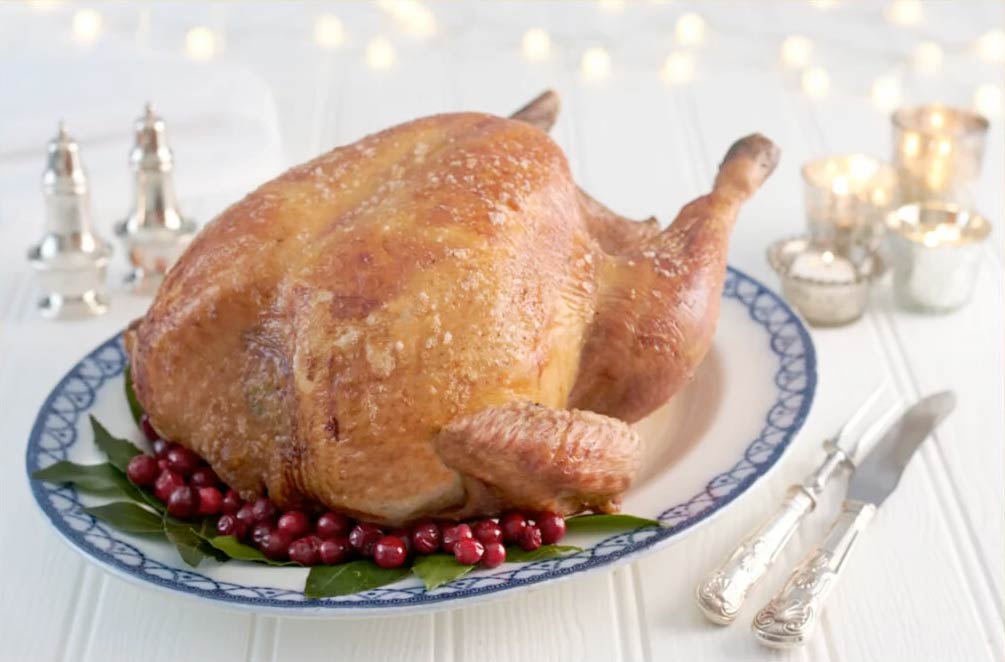 A Christmas feast from Adlington
Christmas is coming and the turkeys and cockerels at Adlington are getting fed – the natural way.  Just one reason to keep it local this Christmas.
Adlington farm is a special reserve situated in the heart of Warwickshire. We are true devotees of the 'field to fork' philosophy.  As specialists in offering outstanding quality turkey and poultry all year round, Adlington produce is guaranteed to make any family feast truly memorable, especially that age old traditional Christmas dinner.
Adlington pride themselves on offering quality traditional turkey and poultry products, all renowned for their flavour and succulence. 
Turkey Farms Near Me
Keeping it local
Adlington source food and bedding of the highest quality from local producers, including the neighbouring arable farmer who provides feed oats and the subsequent straw for bedding.  Even more reason for you to keep it local this Christmas.
Bronze Turkey
The traditional Christmas turkey
Adlington have a range of six traditional turkeys, all of which are slow growing to ensure we satisfy our weight range for your Christmas feast.  Fed on whole natural oats, which is unique to Adlington, each bird is expertly reared to ensure they are an exact weight, promoting a healthy, natural shape and perfect creamy colour.  Reared to maturity, without any growth promoters or hormones, Adlington ensure that you get the best, fullest, flavour and the softest texture.  
The free-range turkeys, include the Adlington bronze as well as a limited number of white feathered birds.  These white feathered birds are a traditional slow growing breed that are fed on oats and game hung for 10-14 days to help achieve their full maturity and establish that amazing and unforgettable Adlington flavour and texture.
As well as free-range turkeys, Adlington has barn reared turkeys.  These turkeys are also high-welfare and follow the RSPCA's Assured standards.  These barn reared birds are housed in large, open barns on a deep litter straw, so they have plenty of space to move around.  This set up means that the environment that the birds are reared in is as close to their natural habitat.
What size turkey will you need for Christmas?
Well, Adlington can help there too.  Whether you have a small gathering, or you are going all out and hosting Christmas for all, we have a size to suit, follow the size range to suit the size of your party.
4-5kg turkey – serves 6-8people
5-6kg turkey- serves 8-10 people
6-7kg turkey – serves 10-12 people
7-8kg turkey – serves 12-14 people
Christmas Cockerel
Turkey isn't everyone's Christmas dinner of choice, and sometimes you want a selection of Christmas meats.  Adlington have a range of produce, to help add some variety for your Christmas feast. Make it a Christmas to remember with Adlington apple fed, free range, special reserve cockerel.
The English heritage, world class quality cockerels are reared to the very strict 'Label Anglais' welfare code.  This code is a farming concept unsurpassed anywhere else in the fine food sector.  
Like the Adlington turkeys, these special reserve cockerels are grown to full maturity, using a slow growing traditional breed of chicken. The chickens are carefully selected for their ability to thrive outdoors and live for almost twice as long as commercial chickens, as a result, they enjoy longer, happier lives of freedom out in the field. Their diet of wheat, maize and whole natural oats enhances a deliciously appetizing quality in the birds – tasty! 
Make your Christmas dinner the best yet with Adlington. 
Visit the Adlington website for more information on their product ranges and how to order in time for the festive season.  There is also a range of recipes and ideas for you to follow for the perfect Christmas dinner, either traditional or a little bit different.
Adlington Turkey
About Adlington
For three generations Adlington have been providing the highest quality premium products to the British fine food market.  Known for their outstanding quality Turkey and poultry which is offered all year around, every slice of Adlington produce is renowned for its flavour.  These succulent products really showcase why Adlington are the true pioneers of developing multi-bird roasts for the British dining table.
For more information, visit our website – Adlington