We were delighted to be featured in the Daily Mail with our Label Anglais chicken, also sold as Adlington chicken, described as The Best of the Flock.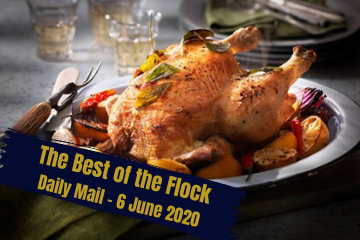 This was followed by an article in the Sunday Telegraph describing our chicken as 'packed with flavour' as part of a piece on the importance of poultry welfare standards.
Our mission is to produce a high welfare free range British chicken with the most incredible taste and flavour and we're over the moon that it was so well reviewed.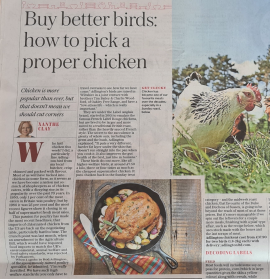 We believe that British free range Label Anglais chicken is a farming concept unsurpassed anywhere else in the fine food sector.
With its own 'welfare protocol', written jointly between the grower Tim Bailey and brand owner Rod Adlington, it brings together our common passion to produce a chicken that is truly delicious with a fantastic succulent flavour that delivers every time.
Grown to full maturity of 70-80 days using a slow growing breed of chicken carefully selected for its ability to thrive outdoors and live for almost twice as long as commercial chickens.
This gives them a longer and happier life scratching around in the fields and this is reflected in the amazing eating quality of the bird.
Fed on a diet including wheat, maize and whole natural oats, the end product is simply incredible in taste and texture, quite unlike any other.
This is the review from Harry Wallop in the Daily Mail on Saturday 6 June.
Rating: 

"This is proof that you don't need a welfare label — nor pay an outrageous sum — to get a cracking chicken.
Championed by both Jamie Oliver and Heston Blumenthal, Label Anglais birds are the Hubbard 778 breed grown in Wiltshire. Free range, but not organic.
The cooked chicken has a fabulous texture — it's not tough, but it has heft.
Nice crispy skin and excellent flavour. This is a great chicken."
For details of your local Label Anglais supplier, please get in touch. If there isn't one local to you we can see if we can talk to a local farm shop or butchers in your area or arrange for direct delivery.
Contact us:
Telephone: 01676 532 681
email: enquiries@labelanglais.co.uk