New product launch from Adlington
From field to fork – that is the Adlington philosophy.  Knowing where your food comes from and how it is produced is important and we really do appreciate that.  It is that philosophy which runs true in our product Adlington Hickory Chicken.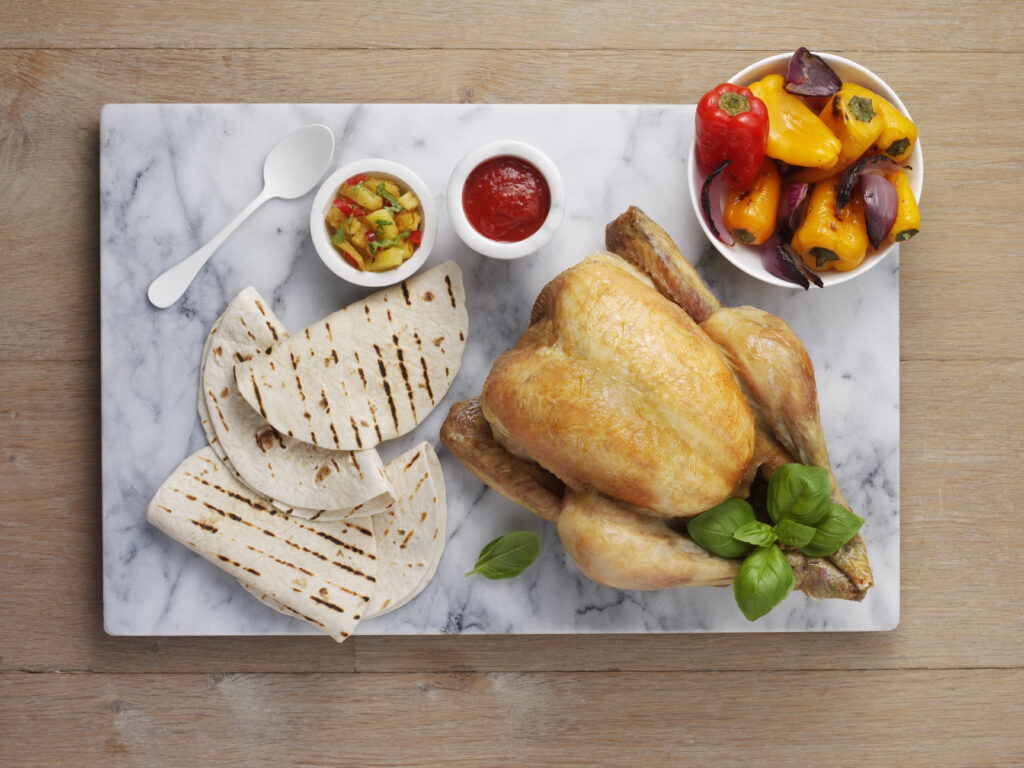 Hickory Chicken
Adlington's hickory chicken is an English Label Chicken. What makes this chicken so unique is the flavour. Our hickory chicken is infused for 24 hours in brine and juniper berries, before being smoked over oak and chestnut wood chips.
Our hickory chicken comes in a high quality, ready to cook, oven bag. This allows for easy and convenient cooking and the result? Perfect chicken every time. The oven bag helps to keep the chicken moist and succulent, whilst also still allowing to achieve that wonderfully crispy skin – the best part of a roast a chicken.
Chicken Supplier
Like all the poultry products we produce at Adlington, our policy is the same. We source only the best bedding from our local producers to keep our animals in the best environment possible. Not only that, but we also use the very best oat feed to keep then fed well too. We believe it is this care and attention that helps us to produce the best quality product, and this remains the same with all our products.
Award Winning Hickory Chicken
Adlington Hickory Chicken is part of our English Label Chicken range. English Label has a strong reputation for quality and excellence and has been used in the hospitality sector since it started out in 1999.
We are proud to have won a Great Taste award for our English Label Chicken. Judges awarded us two stars and said that they "loved the golden appearance and rich aroma". They also commented on the product saying "The flavour was juicy and sweet, and the texture was incredibly soft, even the breast. We could keep eating a lot more of this."
Hickory Chicken Recipe
The most obvious meal to make with our hickory chicken, is the classic Sunday roast. By using the tasty hickory chicken, it gives your traditional Sunday roast a bit of a twist. Couple that with steaming, fresh vegetables – who couldn't resist. Fancy something lighter? This chicken works wonderfully as an easy meal option, a fresh summer salad and a jacket potato are the perfect combination and certainly helps to bring out the flavours of our hickory chicken. This type of dish brings out the unique and wonderful taste that is created by the infusion process and the smoked effect. How about a warming chicken curry on a cold winters evening? So tasty!
We are always creating new recipes and different ways of cooking all our poultry products and some of these can be found on our website – Recipes & Cooking Instructions
About Adlington
For three generations Adlington have been providing the highest quality premium products to the British fine food market. Known for their outstanding quality Turkey and poultry which is offered all year around, every slice of Adlington's produce is renowned for its flavour. These succulent products really showcase why Adlington Ltd are the true pioneers of developing multi-bird roasts for the British dining table.
For more information, visit our website – Adlington